It's no secret this city is expensive and you've got to do some digging to really stretch your dollar. In fact, there are few things you can get for under $8 in the San Francisco area.
Here are just a few: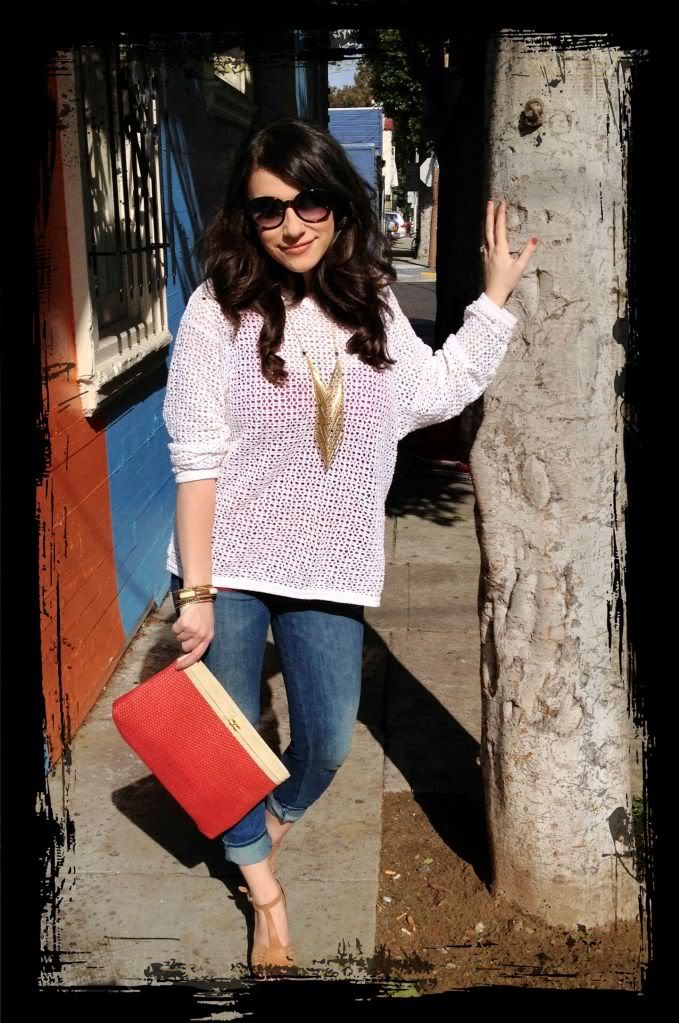 TOMS sunnies: Shoe Biz SF, tank: SPUN Clothing, crocheted sweater: SF Indie Mart, jeans: Madewell, wedges: Banana Republic, jewelry: Lulus.com, clutch: Transient Treasures at Treasure Island Flea
I picked up this never-been-used-perfect-for-spring clutch at the Treasure Island Flea last month for a mere $8 from the Transient Treasures booth.
Nora Matthes-Kniveton, the wonderful woman behind Transient Treasures, gets her vintage goods from estate sales and thrift shops. Her selection of vintage handbags and clothing was some of the best I saw at Treasure Island Flea and every item was affordably priced. While you can catch her at the Treasure Island Flea Market, you don't have to wait to shop her items. Nora sells her upcycled relics and vintage finds through her Etsy and Ebay stores.
This purse adds a pop of color and spring cheer to my outfits, easily goes from day to night, and is surprisingly practical. The inside is so spacious that I can easily tote around all of my daily essentials including my sunnies, phone, wallet, Moleskin journal, on-the-go makeup, and Kindle. Perfection!
The fact that I scored it for $8 while supporting an independent retailer makes it all the more enjoyable!
Ciao my SF lovelies!